BWV 256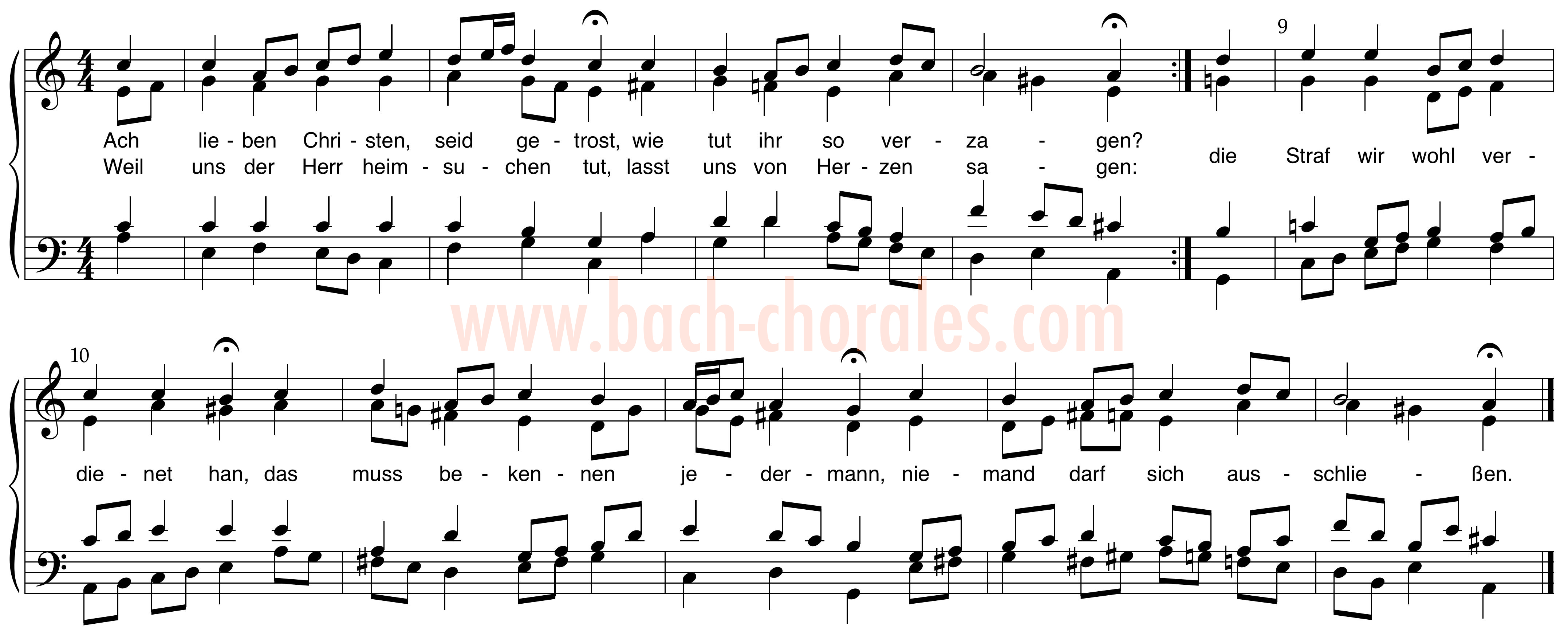 Previous: BWV 255 Next: BWV 257

Original source: Chorale, Ach lieben Christen, seid getrost, BWV 256
Chorale Text: Ach, lieben Christen, seid getrost*, by Johann Gigas (1561)
Tune: Wo Gott der Herr nicht bei uns hält, Wittenberg 1529 (Zahn 4441a)
First Performance: Unknown
Appearance in Early Collections (Key): Riemenschneider 31; Breitkopf 31; Birnstiel 35; AmB 46II p.164; Levy–Mendelssohn 31; Fasch p.49;
Other Harmonizations: BWVs 114.7, 178.7, 257, 258

Notes
This chorale survives without text. The text that appears here is the one provided by editors of the Bach Gesellschaft Ausgabe (BGA).

Speculation regarding liturgical occasion: While Smend suggests that this setting may have served as the 3rd movement in the lost St. Mark Passion (BWV 247) using the 4th verse of Wo Gott der Herr nicht bei uns hält, Häfner believes the setting may have come from a cantata entitled Kehret wieder, kommt zurücke composed for the 2nd Day of Christmas during the Picander–Jahrgang using the 5th verse of Ach lieben Christen, seid getrost (Picander 6). (See NBA III/2.2 KB, pp.156–157.)

View a complete listing of speculations regarding the liturgical occasions of individual BWV 253–438 chorales.


bach–chorales.com by Luke Dahn. Copyright 2018.