BWV 335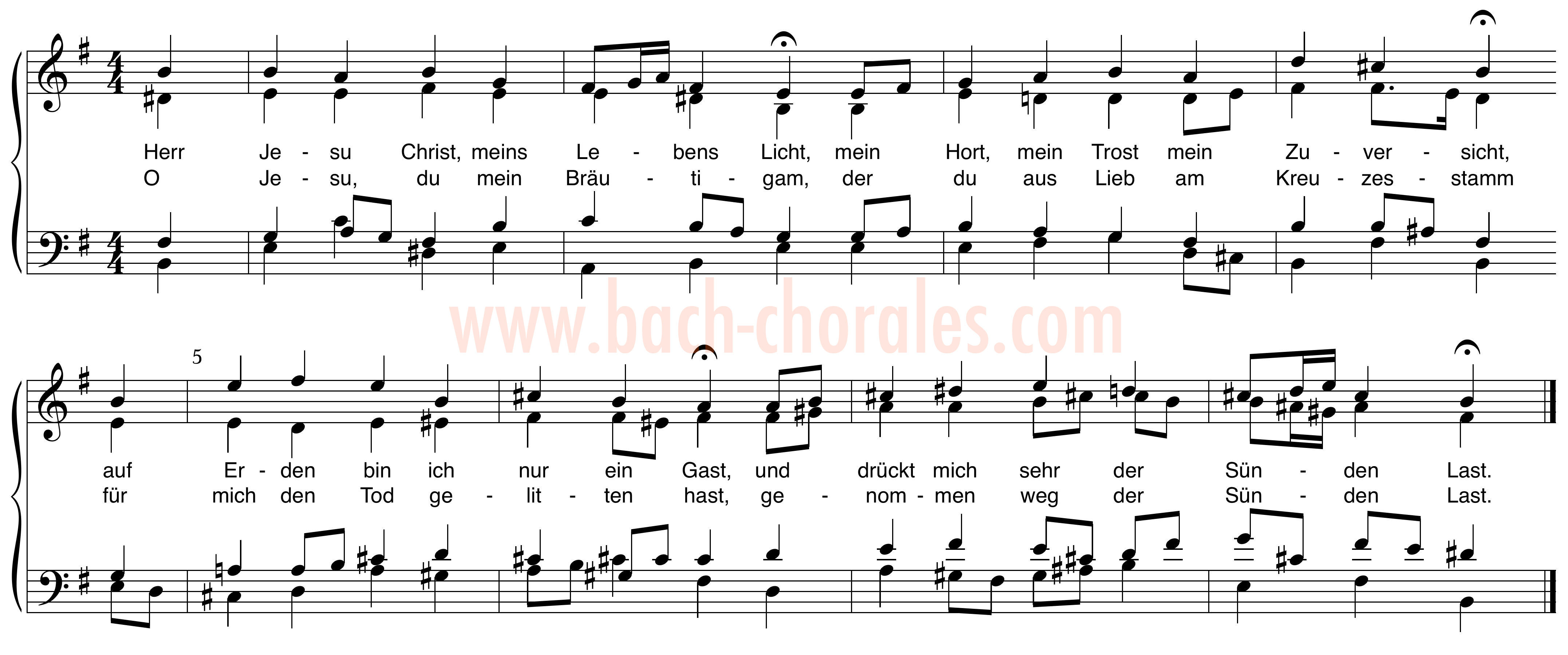 Previous: BWV 334 Next: BWV 336

Original source: Chorale, Herr Jesu Christ, meins Lebens Licht, BWV 335
Chorale Text #1: Herr Jesu Christ, meins Lebens Licht, by Martin Behm (1610) (Heading given for Breitkopf 294)
Chorale Text #2: O Jesu, du mein Bräutigam, Anon. (Heading given for Breitkopf 236)
Tune: Herr Jesu Christ, meins Lebens Licht (melody #1), Anon. 1594, after Gregorian tune Rex Christe factor omnium (Zahn 314)
First Performance: Unknown*
Appearance in Early Collections (Key): Riemenschneider 236=295; Breitkopf 236=294; Dietel 83; AmB 46II p.192 & p.290
Other Harmonizations: None

Notes
This chorale survives without text. The two texts that appear here are the first verses of the hymns represented by the two different headings given for this setting in the Breitkopf edition. The editors of the Bach Gesellschaft Ausgabe (BGA) included only the first text given here.

Speculation regarding liturgical occasion: Häfner suggests that this setting served as the closing number to the Picander–Jahrgang cantata Können meine nassen Wangen for the 13th Sunday after Trinity (Picander 56), using the 15th verse of Herr Jesu Christ, meins Lebens Licht. (See NBA III/2.1 KB, p.73 or III/2.2 KB, pp.264 & 293.)

Häfner's speculation is further supported by its position in the Dietel Collection, portions of which are loosely arranged by the liturgical calendar. Placing BWV 335 at the 13th Sunday after Trinity is logical considering the liturgical occasions of the following Dietel chorales:
Dietel 74 & 75 = from Trinity +11
Dietel 76 & 77 = from Trinity +12
Dietel 80 & 82 (& 83?) = from Trinity +13
Dietel 84 = from Trinity +14 (10 September 1724)
Dietel 85 & 87 = from Feast of the Archangel Michael (Dietel 85 = 29 September 1724, Friday after Trinity +16)
Dietel 88 & 89 = from Trinity +16

View a complete listing of speculations regarding the liturgical occasions of individual BWV 253–438 chorales.


bach–chorales.com by Luke Dahn. Copyright 2018.