BWV 359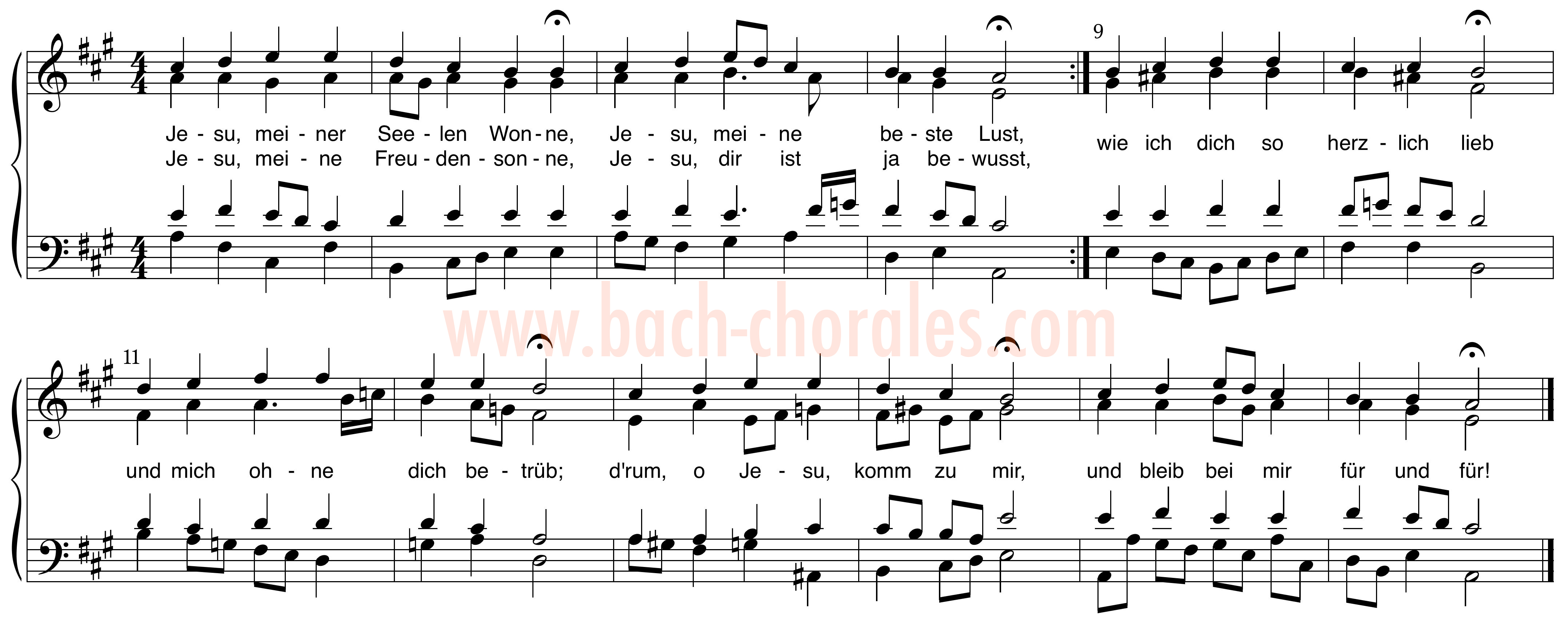 Previous: BWV 358 Next: BWV 360

Original source: Chorale, Jesu, meiner Seelen Wonne, BWV 359
Chorale Text: Jesu, meiner Seelen Wonne*, by Martin Jahn (1661)
Tune: Werde munter mein Gemüte, by Johann Schop (1642) (Zahn 6551)
First Performance: Unknown
Appearance in Early Collections (Key): Riemenschneider 365; Breitkopf 364; AmB 46II p.321
Other Harmonizations: BWVs 55.5, 146.8, 147.6=147.10, 154.3, 244.40, 360

Notes
This chorale survives without text. The text that appears here is the one provided by editors of the Bach Gesellschaft Ausgabe (BGA).

Speculation regarding liturgical occasion: According to Häfner, this setting (or BWV 360) possibly served as the closing chorale for the lost cantata Ich scheue mich, gerechter Gott for the 11th Sunday after Trinity in the Picander–Jahrgang (Picander 54), with the 6th verse of Werde munter, mein Gemüte by Johann Rist. (See NBA III/2.2 KB, p.328; for BWV 360 see NBA III/2.1 KB, p.82 or III/2.2 KB, p.319.) Arguably, the inclusion of BWV 360 in the Dietel collection and absence of BWV 359 from the same may lend slightly more support for the former. (—LD)

View a complete listing of speculations regarding the liturgical occasions of individual BWV 253–438 chorales.


bach–chorales.com by Luke Dahn. Copyright 2018.