BWV 362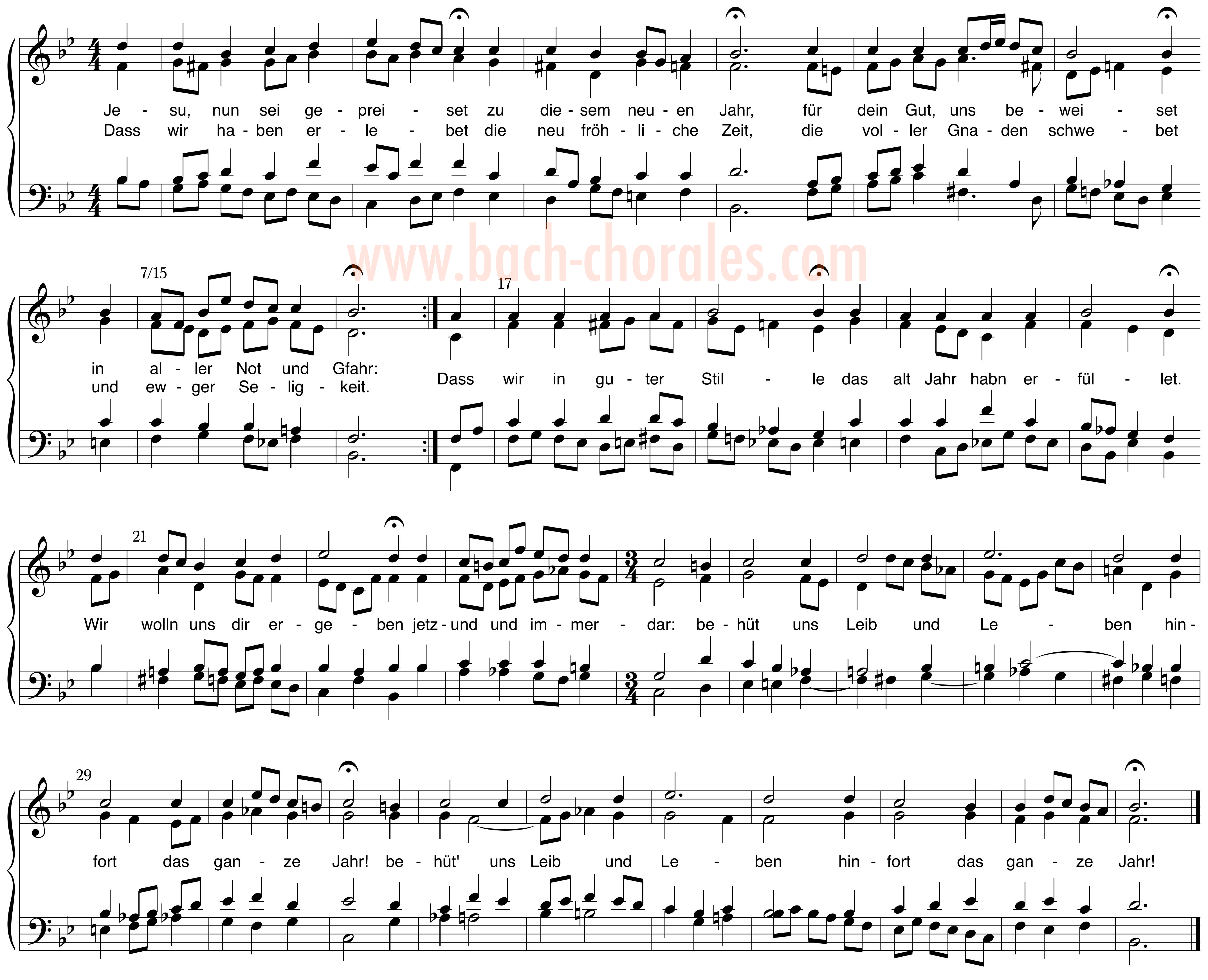 Previous: BWV 361 Next: BWV 363

Original source: Chorale, Jesu, nun sei gepreiset, BWV 362
Chorale Text: Jesu, nun sei gepreiset*, by Johannes Herman (1593)
Tune: Jesu, nun sei gepreiset, Wittenberg 1591 (Zahn 8477a)
First Performance: Unknown*
Appearance in Early Collections (Key): Riemenschneider 252; Breitkopf 252; Dietel 7; AmB 46II p.222
Other Harmonizations: BWVs 41.6, 171.6, 190.7

Comparative score: Four settings of Jesu, nun sei gepreiset placed in the same key (PDF)


Notes
This chorale survives without text. The text that appears here is the one provided by editors of the Bach Gesellschaft Ausgabe (BGA).

Speculation regarding liturgical occasion: This setting may have come from a cantata from New Year's Day. This is based on the strong association of the tune (Jesu, nun sei gepreiset) with New Year's — all three other four–part settings of the tune come from New Year's cantatas (BWVs BWV 41.6, 171.6, and 190.7). Furthermore, while BWV 171 may have served as the New Year's cantata from the Picander–Jahrgang since it uses the text called for in Picander's libretto, it is possible that the lost cantata from which BWV 362 came served in that role.

View a complete listing of speculations regarding the liturgical occasions of individual BWV 253–438 chorales.

"Cadential fifths": The Dietel version of this chorale features parallel fifths in measure 5/13. On beat 2, the Dietel has A–Bb eighth notes in the alto rather than A–G, creating parallel fifths with the tenor (Eb–D). For a complete account of consecutive fifths and octaves in the Bach chorales, see "Consecutive Fifths & Octaves in the Bach Chorales" featured on the Articles & Research page.


bach–chorales.com by Luke Dahn. Copyright 2018.