BWV 382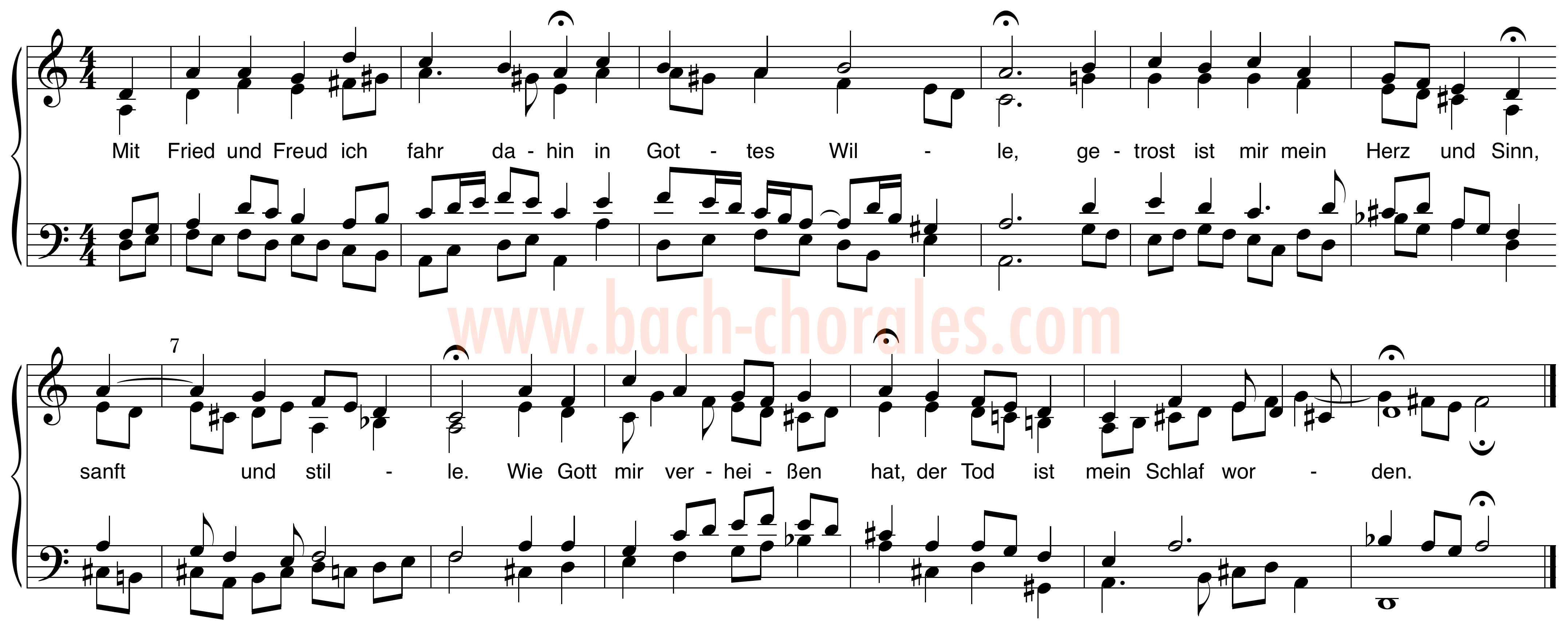 Previous: BWV 381 Next: BWV 383

Original source: Chorale, Mit Fried und Freud ich fahr dahin, BWV 382
Chorale Text: Mit Fried und Freud*, by Martin Luther (1524)
Tune: Mit Fried und Freud ich fahr dahin, Wittenberg 1524 (Zahn 3986)
First Performance: Unknown*
Appearance in Early Collections (Key): Riemenschneider 49; Breitkopf 49; Birnstiel 53; Dietel 51; AmB 46II p.171 & p.264; Levy–Mendelssohn 39; Fasch p.154
Other Harmonizations: BWVs 83.5, 125.6

Notes
This chorale survives without text. The text that appears here is the one provided by editors of the Bach Gesellschaft Ausgabe (BGA).

Speculation regarding liturgical occasion: Häfner states that we can be "quite assured" ("ziemlich gesichert") that this chorale closed the cantata Herr, nun lässet du deinen Diener for the Purification of Mary service during the Picander–Jahrgang (Picander 16). (See NBA III/2.2 KB, p.169) In addition to the tune coinciding with Picander's libretto, Häfner's speculation is supported by the strong association of the tune with the Purification of Mary service. The two other four–part settings (BWV 83.5 and BWV 125.6) come from cantatas designated for the same liturgical occasion.

View a complete listing of speculations regarding the liturgical occasions of individual BWV 253–438 chorales.


bach–chorales.com by Luke Dahn. Copyright 2018.