BWV 385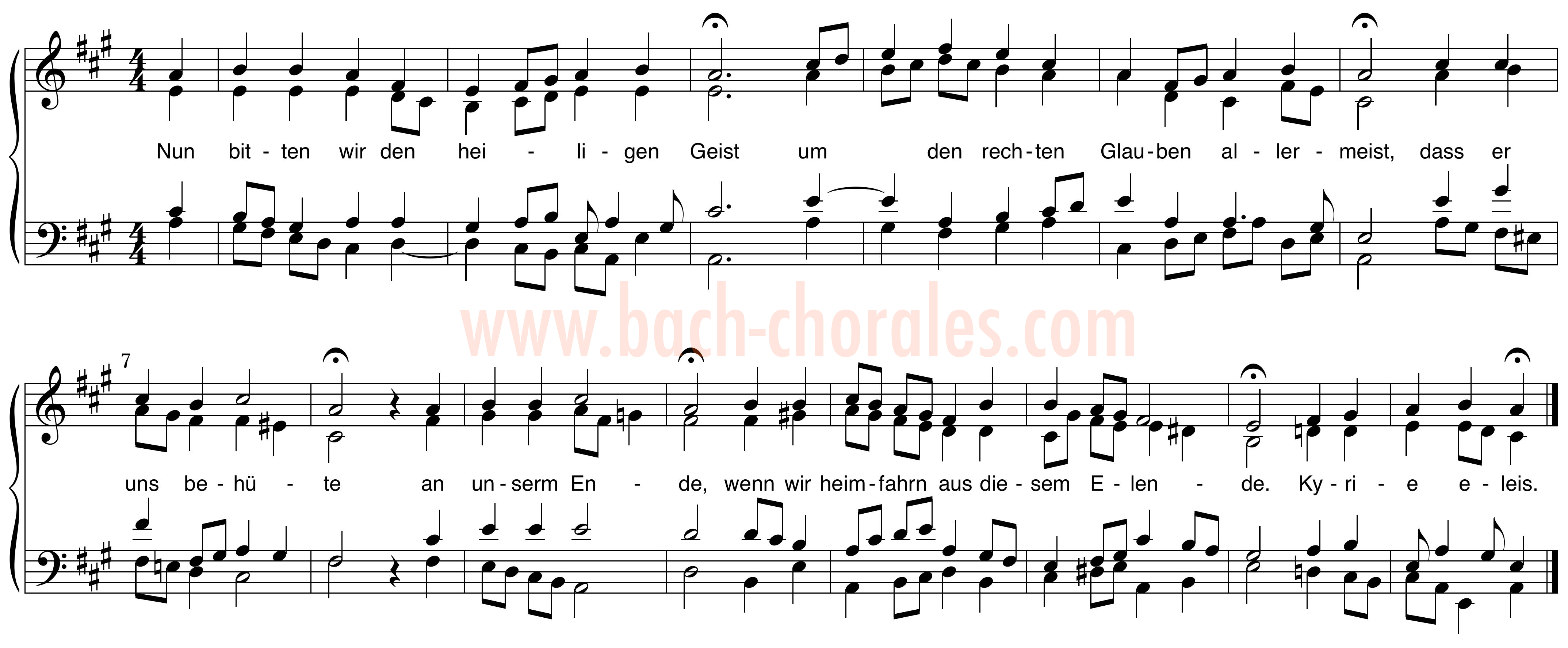 Previous: BWV 384 Next: BWV 386

Original source: Chorale, Nun bitten wir den heiligen Geist, BWV 385
Chorale Text: Nun bitten wir den Heiligen Geist*, by Martin Luther (1524)
Tune: Nun bitten wir den Heiligen Geist, 13th c. melody / Wittenberg 1524 (Zahn 2029)
First Performance: Unknown*
Appearance in Early Collections (Key): Riemenschneider 36; Breitkopf 36; Birnstiel 40; Dietel 109; AmB 46II p.310; Levy–Mendelssohn 22; Fasch p.80
Other Harmonizations: None

Notes
This chorale survives without text. The text that appears here is the one provided by editors of the Bach Gesellschaft Ausgabe (BGA).

Speculation regarding liturgical occasion: Häfner states that it is "highly probable" ("mit hoher Wahrscheinlichkeit") that this setting served as the concluding chorale for the lost cantata Ich liebe Gott vor allen Dingen from the Picander–Jahrgang written for the 18th Sunday after Trinity (Picander 61), using the 3rd verse of Nun bitten wir den Heiligen Geist. (See NBA III/2.1 KB, p.84 or III/2.2 KB, p.160)

However, this portion of the Dietel collection falls (very) roughly in order of the liturgical calendar, an arrangement that would suggest that this setting may fall around Whit Sunday, Monday or Tuesday.
Dietel 101 (BWV 112.5) = for Misericordias Domini, 2nd Sunday after Easter
Dietel 102 (BWV 103.6) = for Jubilate, 3rd Sunday after Easter
Dietel 103 (BWV 100.6) = for a wedding(?)
Dietel 104 (BWV 360) = ?? (See notes for BWV 360)
Dietel 105 (BWV 87.7) = for Rogate, 5th Sunday after Easter
Dietel 107 (BWV 43.11) = for Ascension
Dietel 108 (BWV 44.7) = for Exaudi
Dietel 109 (BWV 385) = ??
Dietel 110 (BWV 175.7) = for Whit Tuesday
Dietel 111 (BWV 174.5) = for Whit Monday
Dietel 112 (BWV 74.8) = for Whit Sunday
Dietel 113 (BWV 1125) = ??
Dietel 114 (BWV 129.5) = for Trinity Sunday

View a complete listing of speculations regarding the liturgical occasions of individual BWV 253–438 chorales.


Parallel fifths in Dietel: The Dietel version of this chorale features poorly masked parallel fifths in measure 6. On beat 4, the Dietel has C#4–E#3 eighth notes in the bass rather than F#–E#, creating poorly masked parallel fifths with the tenor (E–G#) from beat 3 to beat 4. For a complete account of consecutive fifths and octaves in the Bach chorales, see "Consecutive Fifths & Octaves in the Bach Chorales" featured on the Articles & Research page.


bach–chorales.com by Luke Dahn. Copyright 2018.