BWV 389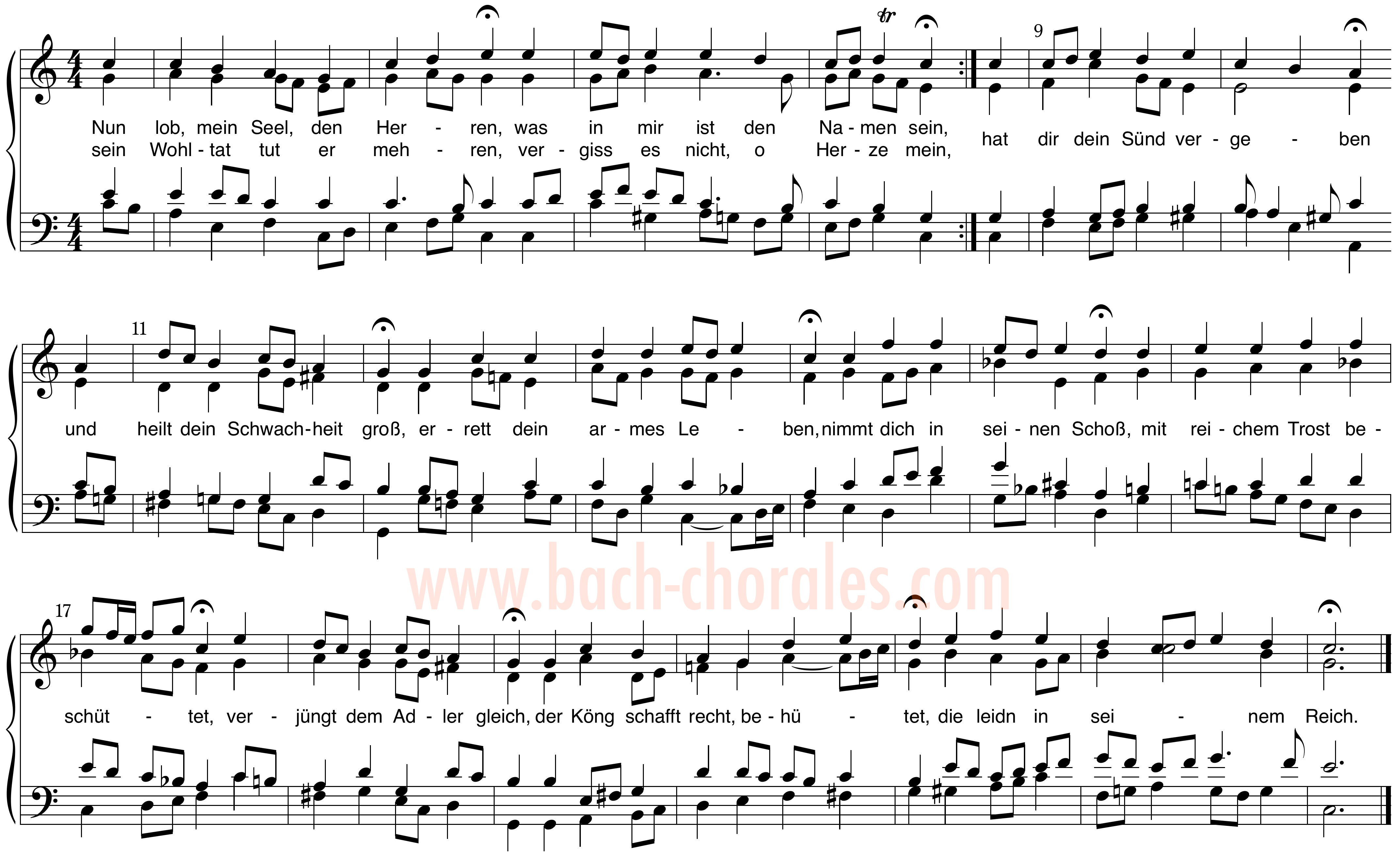 Previous: BWV 388 Next: BWV 390

Original source: Chorale, Nun lob, mein Seel, den Herren, BWV 389
Chorale Text: Nun lob, mein Seel, den Herren*, by Johann Gramann (1540)
Tune: Nun lob, mein Seel, den Herren, by Hans Kugelmann, based on a 15th c. melody (Zahn 8244)
First Performance: Unknown*
Appearance in Early Collections (Key): Riemenschneider 268; Breitkopf 268; Dietel 39; AmB 46II p.250
Other Harmonizations: BWVs 17.7, 29.8, 167.5, 390

Notes
This chorale survives without text. The text that appears here is the one provided by editors of the Bach Gesellschaft Ausgabe (BGA).

Speculation regarding liturgical occasion: Since this setting appears in the Dietel Collection, there is a strong possibility that it comes from a large choral work (e.g. cantata) that is now lost. Furthermore, based on its position in the Dietel Collection, portions of which are arranged very loosely in order of the liturgical calendar, this setting may have come from a cantata from somewhere near Trinity +19 to Trinity +25, though such an assertion cannot be held with much confidence.
Dietel 34 (BWV 161.6) = from Trinity +16
Dietel 36 (BWV 169.7) = from Trinity +18
Dietel 37 (BWV 48.3) & 40 (BWV 48.7) = from Trinity +19
Dietel 39 (BWV 389) = ??
Dietel 41 (BWV 90.5) = from Trinity +25 View a complete listing of speculations regarding the liturgical occasions of individual BWV 253–438 chorales.


bach–chorales.com by Luke Dahn. Copyright 2018.