BWV 397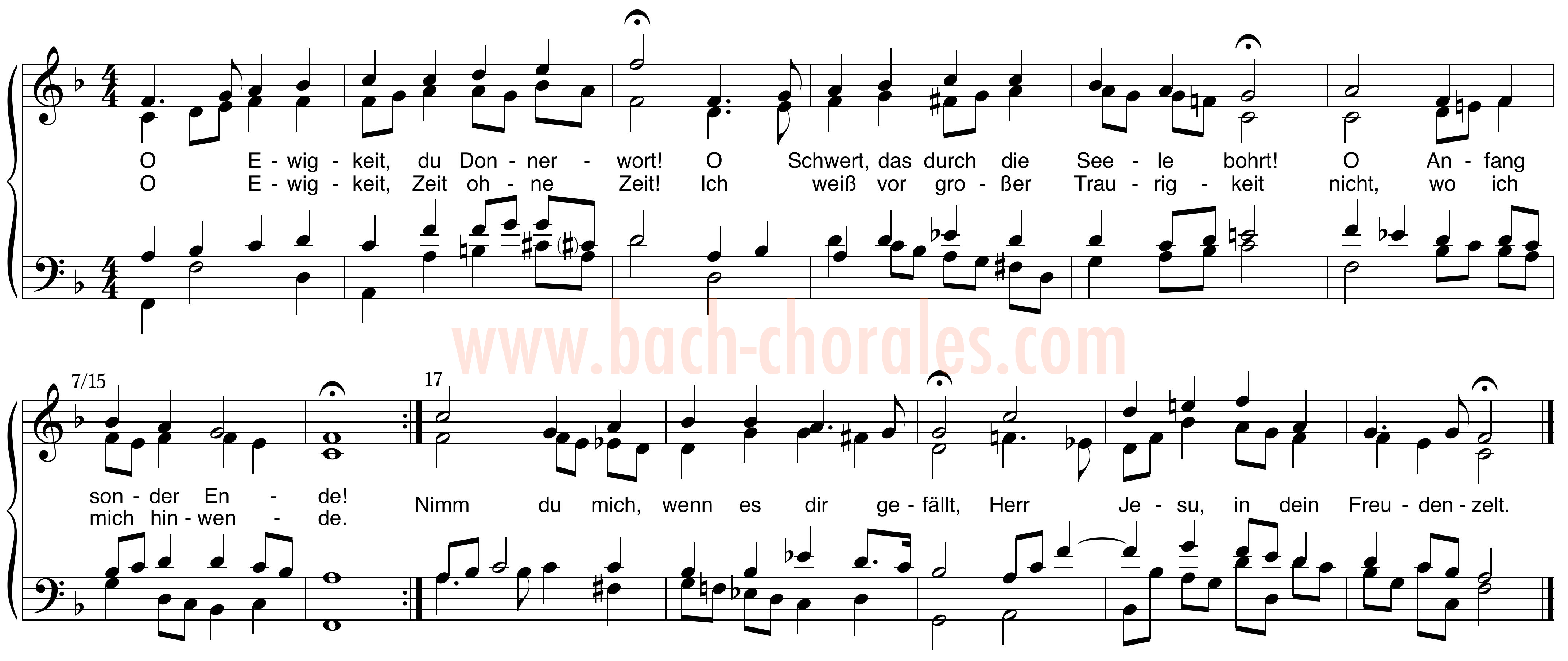 Previous: BWV 396 Next: BWV 398

Original source: Chorale, O Ewigkeit, du Donnerwort, BWV 397
Chorale Text: O Ewigkeit, du Donnerwort*, by Johann Rist (1642)
Tune: O Ewigkeit, du Donnerwort, by Johann Crüger (1653), an adaptation of Johann Schop's Wach auf, mein Geist, erhebe dich (1642) (Zahn 5820)
First Performance: Unknown*
Appearance in Early Collections (Key): Riemenschneider 274; Breitkopf 274; Dietel 23; AmB 46II p.233
Other Harmonizations: BWV 20.7=20.11


Notes
This chorale survives without text. The text that appears here is the one provided by editors of the Bach Gesellschaft Ausgabe (BGA).

Speculation regarding liturgical occasion: Smend speculates that this setting may have been the 11th number from the St. Mark Passion (BWV 247.11), in which case the 13th verse of Wach auf, o Mensch, vom Sünderschlaf would have been used. Häfner, however, suggests that the chorale could have concluded the lost cantata for the tenth Sunday after Trinity in the Picander Jahrgang. (See NBA III/2.1 KB p.50 and III/2.2 KB p.283)

View a complete listing of speculations regarding the liturgical occasions of individual BWV 253–438 chorales.

The Dietel version of this chorale features parallel fifths from measure 18 into 19. In the Dietel, the tenor's dotted rhythm on beat 4 is presented in straight eighth notes creating parallel fifths with the soprano's A–G anticipation figure. Such "cadential parallels," which are considered non–structural since they involve non–chord tones, can be found in several chorales, most notably in BWV 40.8 where four instances occur. The fact that editors of the Breitkopf edition and other early chorale collections took liberties in "correcting" such parallel fifths suggests that the Dietel version of this chorale (or at least this particular cadence) may be authentic and the Breitkopf version (presented here) may represent a modification by an editor. For a complete account of consecutive fifths and octaves in the Bach chorales, see "Consecutive Fifths & Octaves in the Bach Chorales" featured on the Articles & Research page.


bach–chorales.com by Luke Dahn. Copyright 2018.