BWV 434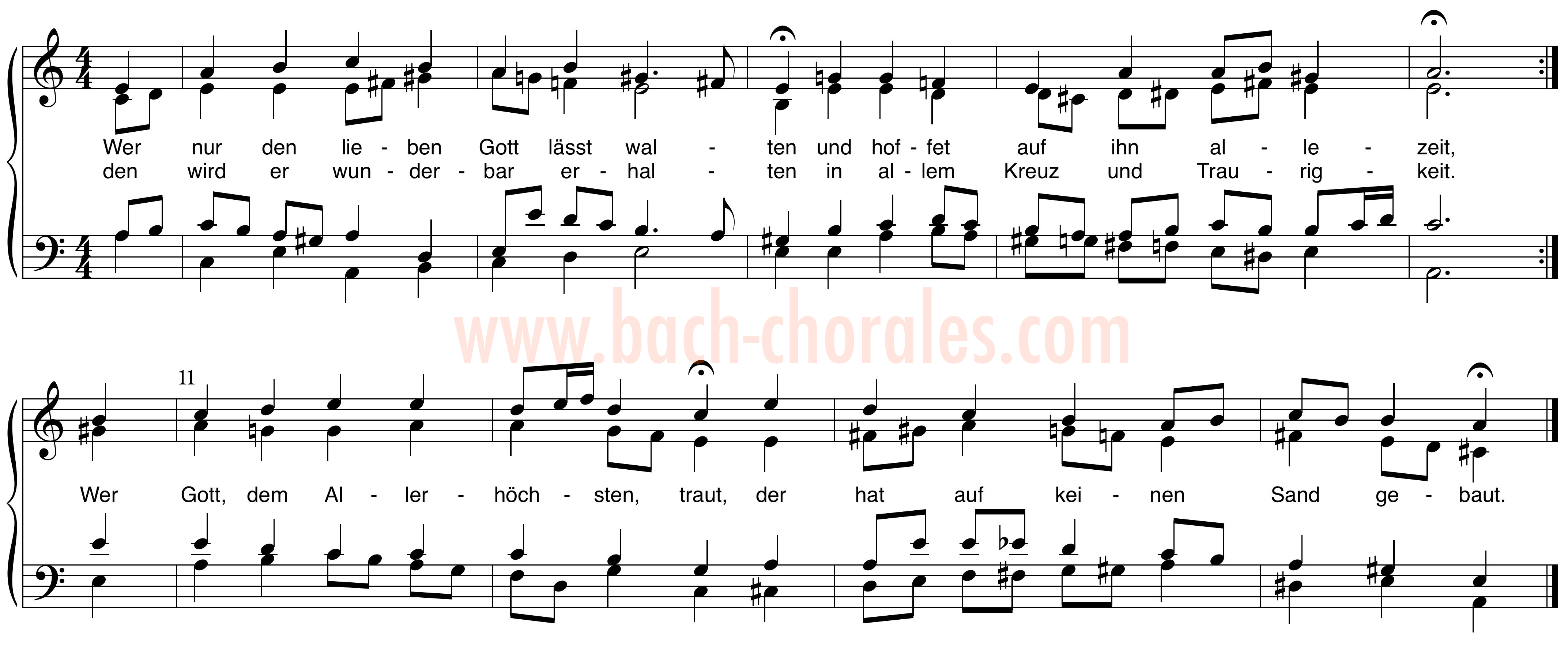 Previous: BWV 433 Next: BWV 435

Original source: Chorale, Wer nur den lieben Gott lässt walten, BWV 434
Chorale Text: Wer nur den lieben Gott lässt walten *, by Georg Neumark (1657)
Tune: Wer nur den lieben Gott lässt walten, by Georg Neumark (1641) (Zahn 2778)
First Performance: Unknown*
Appearance in Early Collections (Key): Riemenschneider 146; Breitkopf 146; Birnstiel 149; Dietel 47; AmB 46II p.120 & p.260; Penzel 111
Other Harmonizations: BWVs 84.5, 88.7, 93.7, 166.6, 179.6, 197.10

Comparative score: Seven settings of Wer nur den lieben Gott lässt walten placed in the same key (PDF)


Notes
This chorale survives without text. The text that appears here is the one provided by editors of the Bach Gesellschaft Ausgabe (BGA).

Speculation regarding liturgical occasion: According to Häfner, this chorale could have been used in one of three of the lost Picander–Jahrgang cantatas –
1) 15th Sunday after Trinity cantata Arm und dennoch fröhlich sein (Picander 58), movement 5, using the 12th verse of Wer weiß wie nahe mir mein Ende by Ämilie Juliane von Schwartzburg–Rudolstadt,
2) Septuagesima Sunday cantata Ich bin vergnügt mit meinem Stande (Picander 19), movement 5, using the 7th verse of Sing, bet und geh auf Gottes Wegen, or
3) 2nd Sunday after Epiphany cantata Ich hab in mir ein fröhlich Herze (Picander 13), using the 4th verse of Er kennt die rechten Freudenstunden. (See NBA III/2.2 KB, p.222)

View a complete listing of speculations regarding the liturgical occasions of individual BWV 253–438 chorales.


bach–chorales.com by Luke Dahn. Copyright 2018.